Custom Night is a Bonus Night where the player will edit the animatronics A.I
| Challenges | Piggy | Hardy | Ruby | Lucky | Wiggly | Red | Chuck | Stella | Terrence | Piggly | Prize |
| --- | --- | --- | --- | --- | --- | --- | --- | --- | --- | --- | --- |
| Beat the Green | 20 | 20 | 20 | 20 | 20 | 0 | 0 | 0 | 0 | 20 | |
| Angry Birds | 0 | 0 | 0 | 0 | 0 | 20 | 20 | 20 | 20 | 0 | |
| Double Trouble | 20 | 0 | 0 | 20 | 20 | 0 | 20 | 20 | 20 | 20 | |
| Ladies First | 0 | 0 | 20 | 0 | 20 | 0 | 0 | 20 | 0 | 0 | |
| Nice Guys | 20 | 20 | 0 | 20 | 0 | 20 | 20 | 0 | 20 | 20 | |
| A "Hard" Night | 10 | 10 | 10 | 10 | 10 | 10 | 10 | 10 | 10 | 10 | |
| Easy as Pie | 0 | 0 | 0 | 0 | 0 | 0 | 0 | 0 | 0 | 0 | |
| Family Night | 20 | 0 | 20 | 0 | 0 | 0 | 20 | 20 | 0 | 0 | |
| Hard Luck | 20 | 20 | 20 | 20 | 20 | 20 | 20 | 20 | 20 | 20 | |
Trivia
The only Custom Night options you can do in order to obtain two prizes at once is Easy as "Pie!" And Family Night
In Beta 1.0.4, the creator was about to add 5 more characters to Custom Night. Those characters were

Endoskeleton-1, Endoskeleton-2, Suit-1, Suit-2, and Suit-3. This was scrapped however because the creator predicted that if they change the misfits A.I, then the A.I's for the main characters will reset to zero.
Gallery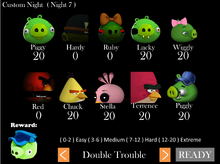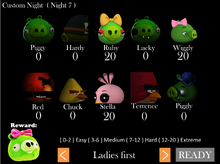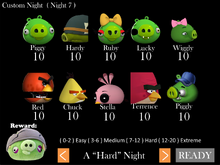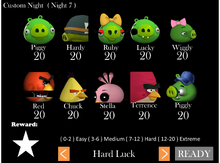 Ad blocker interference detected!
Wikia is a free-to-use site that makes money from advertising. We have a modified experience for viewers using ad blockers

Wikia is not accessible if you've made further modifications. Remove the custom ad blocker rule(s) and the page will load as expected.