Daddy Long Legs is a secondary antagonist in Five Nights at Piggy's. 
Appearance
Daddy Long Legs is a tall, bloody, red mutant-like creature that roams in Chammy's Hammy Pan. He is red, has three tall and long legs, has eight teeth, has 21 eyes, has yellow pupils, and has a squid (kinda) like head.
Locations
Daddy Long Legs starts at Backstage-1 then heads towards to the Office Hallway, the Office (first strike), Backstage-1 (again), Office Air Vent, Office (second strike), the Backstage-1/Junior's Playroom vent, the Hallway, the Office Doorway, then finally into the Office (last strike) the starts the whole entire routine again.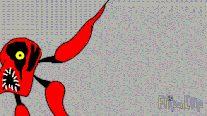 Trivia
It is safe to say that Daddy Long Legs was removed from Five Nights at Piggy's because he has a striking resemblance to The Redman (a.k.a, the man who drank lava and lived kinda) from One Night at Flumpty's.
Daddy Long Legs is the only character that has no type of species.
Gallery
Ad blocker interference detected!
Wikia is a free-to-use site that makes money from advertising. We have a modified experience for viewers using ad blockers

Wikia is not accessible if you've made further modifications. Remove the custom ad blocker rule(s) and the page will load as expected.