This is all the easter eggs in all Five Nights at Piggy's games including the beta.
Five Nights at Piggy's Beta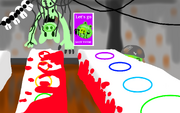 The stars that were connected to one string were replaced with skulls
The poster with the caption,"let's go green," will change into a caption saying,"let's go SAVETHEM!" Additionally, Chammy Hammy Dammy's eyes will tear out black blood and turn hollow with white glowing pupils.
Blood will appear on the tables.
Random colored rings will appear on the tables.
Wires appear around  Suit-1
​
Five Nights at Piggy's
If the player flashes the flashlight into the hallway, they will rarely see a poster in the hallway saying,"HELP ME," with a colorless pig with hollowed eyes.
Five Night's at Piggy's 3
Ad blocker interference detected!
Wikia is a free-to-use site that makes money from advertising. We have a modified experience for viewers using ad blockers

Wikia is not accessible if you've made further modifications. Remove the custom ad blocker rule(s) and the page will load as expected.