Foxy is a easter egg in Five Nights at Piggy's 3.
Appearance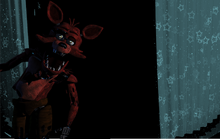 Foxy's model is actually himself fro, the original Five Nights at Freddy's game as he is large, tall animatronic that is crimson. He has a ripped shell, showing endoskeleton legs, glowing yellow-orange pupils, two top front teeth, eight bottom teeth, a showing endoskeleton hand, and a hook for his right hand.
Locations
Foxy is either seen in Party Cove or the Dining Area.
Trivia
Like the Golden Freddy easter egg, The Foxy easter egg appears twice.
The picture that is used when Foxy is either in Party Cove and Dining Area is actually a frame of Foxy's jumpscare from the original Five Nights at Freddy's. However, when Foxy is in the Dining Area, the image of Foxy is flipped.
Gallery