Red is the main antagonist of Five Nights at Piggy's 2.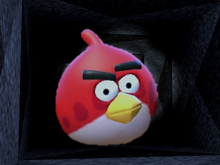 Appearance
Red seems to be all fixed as he has no broken jaw, no rust, no stitches, no visible endoskeleton, and somehow no eye color.
Behavior
Red will start at the Show Stage then will heads towards to the Disco Room, the West Hall, the Left Air Vent, then into the Office. In order for the player to get him away from the Office, the player must immediately put on the Red Head then wait for him to get out the Office.
Trivia
Red is the only one that can cross the Left Air Vent.
Unlike himself from the original Five Nights at Piggy's game, Red's eyebrows move.
Gallery