Ruby is one of the main antagonist of Five Nights at Piggy's.
Appearance

Ruby is a green animatronic with a yellow bow, red eyelids, black triangular eyelashes, dark green eyebrows, and grey cheeks.
Locations
She starts at the Show Stage then heads towards to the Dining Area, The Junior's Playroom, The Hallway, Then into the Office. 
Behavior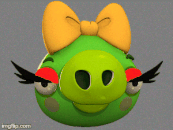 For the player to get her out of the Office, the player could either turn off the light or wear the Piggy Ham Bacon head.
Trivia
She the only pig animatronic with the the shortest move time.
She is more aggressive than Hardy.
She is an animatronic version of a fan made version of the Female Pig.