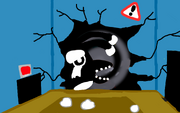 Ssenkard is a easter egg antagonist (possibly) in Five Nights at Piggy's (Beta).
Appearance
Ssenkard is a black shadow figure that is very similar to the shadow freddy-like/toy bonnie-like figures from Five Nights at Freddy's 2. He has top feathers of bubbles, big puffy eyebrows, eyeball outlining, white tears, glowing teeth, and a glowing belly.
Locations
Ssenkard never appears in any cameras at all which makes his starting point only by the Office.
Trivia
Ssenkard is the only animatronic that is a shadow animatronic.
Ad blocker interference detected!
Wikia is a free-to-use site that makes money from advertising. We have a modified experience for viewers using ad blockers

Wikia is not accessible if you've made further modifications. Remove the custom ad blocker rule(s) and the page will load as expected.