Suit-2 was an old antagonist from Beta 1.0.1. Now, he is removed from the game.
Appearance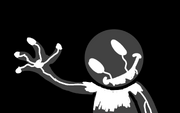 Suit-2 is a grey-ish black costume that has a white face resembling that of a smile and has white blood fluid flowing out of his neck, eyes, mouth, and his hands.
Trivia
In Beta 1.0.4, Suit-2 replaced Suit-1 because of Suit-1's removal.

Because of this, Suit-2 was given the ability to run
Interestingly enough, the creator was about to add Suit-2 inti the final game. However, he was removed from the game because as said by the creator, "he was just too ugly."

While Suit-1 is in Backstage-2, he is dark-ish gray. However, in his jumpscare, he is black.

Additionally, he has black pupils.
Gallery