The Office is where the player resides in The Return to Piggy's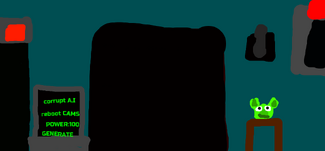 It is the only location the player is in(at least in the main game)
Appearance
The Office is a room with blue walls. There are 2 hallways in the room and one vent. The vent and left hallway have light switches, the middle hallway does not. In between the middle hallway and the vent there is a phone, most likely there to leave a message from the phone pig, under the phone is a desk with a Piggy 2.0 plush on it. In between the hallways there is a panel showing the building maintenance options and status.
Trivia
Very rarely the Piggy 2.0 plush will blink.
Gallery
Ad blocker interference detected!
Wikia is a free-to-use site that makes money from advertising. We have a modified experience for viewers using ad blockers

Wikia is not accessible if you've made further modifications. Remove the custom ad blocker rule(s) and the page will load as expected.