Withered piggy is the main antagonist of The return to piggy's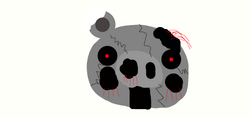 Like all of the withered characters,he has fallen into a very severe state of disrepair.
He was replaced by Piggy 2.0
Appearance
Withered Piggy is a even more damaged and disturbing version of Piggy Ham Bacon he seems to be the most damaged(or one of) out of the withered characters.He is missing his jaw and left ear(replaced by a hole full of wires) both his cheeks seem to be torn off,exposing wiring.His left nostril is torn open,both his eyes seem to be missing showing his red endoskeleton eyes.Half of his left ear also seems to be torn off.
Behaviour
Withered piggy will start in the Cam-04 of floor 2,before going to Cam-03,02,01 of floor 2.before going to Cam-03 of floor 1,then the hallway then office(first strike).If he fails the first time,he will go back to Cam-02 then once he reaches Cam-03 of floor 1 again.He will try to go into the ventilation to reach the office.
Once he does reach the office,if he gets in Via hallway you must turn on Corrupt A.I to make him go away.If he is in the vent,you must close the vent to prevent him from getting inside,and ending the night.
Ad blocker interference detected!
Wikia is a free-to-use site that makes money from advertising. We have a modified experience for viewers using ad blockers

Wikia is not accessible if you've made further modifications. Remove the custom ad blocker rule(s) and the page will load as expected.